As the colder weather sets in, we're asking for everyone to be a good neighbour this winter.
Cold weather can be seriously bad for your health and it's important to look after yourself and those close to you.
Our hospitals can fill up quickly with people needing urgent care and this can mean a long wait if you're there for a non-serious illness. If you or a family member starts to feel poorly, a pharmacist can provide expert over the counter health advice and the NHS 111 service is available 24 hours a day, seven days a week.
Our Keep Herefordshire Warm service provides free advice and support to Herefordshire residents who need to improve the warmth and efficiency of their homes.
Expert energy advisors are able to offer advice and access grant funding to make sure your home is warm and healthy all winter long.
Please do share any information with neighbours- especially those who are vulnerable. You can find more information and helpful advice on pages 5 and 6.
There's also advice to help reduce the amount of rubbish we create this Christmas- don't forget your bin collection dates may change during the Christmas period, more information on page 7.

Cover picture: Delyn Williams, Burghill
We have printed 4,000 copies of this magazine at a cost of £479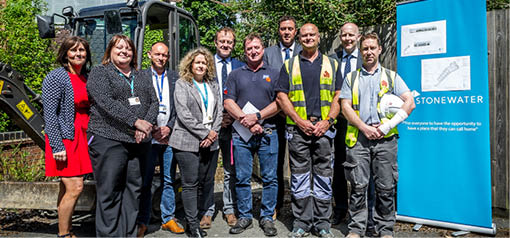 Herefordshire
Council is working with Stonewater housing association, Alabaré and The Royal British Legion to build 19 brand-new homes at Waterworks Lane in Leominster, Hereford.
The project will see up to nine veterans receive training and learn transferable building skills, working alongside a local contractor on the development.
Once the properties are complete, the veterans working on the project will be offered the opportunity to rent one of the homes.

To keep up-to-date with the project visit www.stonewater.org
Local communities across Hereford have embraced their new Beryl Bikes.
Over 10,000 people have tried the scheme, covering over 30,000 kilometres, and we have been delighted to see the community taking the scheme under their wing, keeping an eye on their local Beryl Bikes and Bays, and reporting any damage or issues via the app.
The scheme is affordable, simple, healthy and great for the environment, so why not join the fun and hop on a Beryl bike?